A NOTE TO HEAVEN

YOUR SMILE BRIGHTENED OUR DAYS FOR NEARLY SEVENTEEN YEARS
A LIFETIME FILLED WITH PROMISE AND HOPE
YOUR EYES HUMBLED THE PUREST BROWN
ALWAYS HELD A TWINKLE FROM A SHARED SECRET, JOKE, OR SIMPLY JOY OF LIFE
YOUR LAUGHTER EXPRESSED BOTH HUMOR AND LOVE
ITS MUSIC RENEWED OUR SOULS AND GAVE US HOPE
YOU DANCED AND SWAM, YOU RAN SO FAST YOUR GENTLE TOUCH WARMED OUR HEARTS
GONE TOO SOON FROM THIS OUR WORLD
YOUR SPIRIT AND SOUL AWAIT US IN HEAVEN
OUR SON, BOTH GRAND AND TRUE,
A BROTHER, A FRIEND.
WE ALL MISS YOU!



Thank you Monica Davis, for the wonderful locket.
MY FINAL DAYS WITH BLAKE
September 1st, 2004 , is a day my first born child was taken from me. Blake's step-brother Darryl was in Vanderbilt's Children's Hospital, in Nashville, Tennessee. He wanted me to stay with him, so I called my children, who were at their Dad's for the weekend(Friday 8-27 thru Sunday 8-29), and gave Blake instructions on what he was to do in order to have everything ready to get himself and his two brothers off to school. I came home on Monday the 30th, at 2:30 p.m. I picked Kris, my twelve year old, up from Souls Harbor Christian Academy, and we went home. Blake and Nick came in around 3:05 p.m. I sent them to Waynesboro, TN, to pay our auto insurance. When they got back Blake wanted to go to go up to the High School to the volleyball game and Nick needed to go to Lexington, to get a pair of tennis shoes that wouldn't mark up the gym floor, so I let Blake go to the game with instructions to come home after the game and Nick, Kris and I went to Lexington. We came home around 9 p.m. and Blake's car wasn't here, I went to fussing, because as we came by the school the parking lot was empty, so I knew Blake should be home. I had gotten inside the house and was reading a note Blake had came back home and left me. A friend of his, Bevin, and her mother had invited him to go eat with them at a café in town, he wrote, "Mom, Bevin's Mom asked me to go eat supper with them at Scooters, I get a FREE meal. Hope you don't mind. I love you, Blake". Just as I finished reading the note, I heard him pull up. He was in the house in a flash. He had a big smile on his face, but I could see through that smile. His eyes were saying, " are you mad". I gave him a smile back and told him that he better be glad that he left me a note because if he hadn't he would be in big trouble, because my heart stopped when I pulled in and he wasn't home. He gave me a hug and I thanked him for being responsible. We all got ready for bed, I scratched his back and head for him, because he said his head was hurting. The next morning, (Tuesday 8-31-04) I woke him up and had him to get in my bed before I left for work, so that the alarm would awaken him for school, and once again he could get himself and his brothers off to school. I kissed him goodbye and left for work. That evening I had to drive back to Nashville, TN to get my husband, because my step-son's mother was coming to stay with him. I picked Kris up early from school and we left for Nashville. Blake and Nick had soccer practice after school and Nick had a haircut appointment after practice. They practiced and Blake carried Nick to his appointment, then they came home and done their chores. I called them and checked on them and told them that Darryl was getting to come home and that we all should be there around 9:30 and for them to have everything done. Well we got home at exactly 9:30 p.m. Everything was done. We said our hellos and our goodnights very quickly and off to bed they went. Blake had fixed his single bed for Darryl, with pillows all around, and he slept with his little brother, Kris. The next morning (Wednesday 9-1-04), I got up and went to work and my husband got my three boys off to school. I spent the day calling for check-up appointments for my step-son. Then I went back to drive my evening route. I was sitting on the bus at Scotts Hill High School, the first bell rung, Blake came to my bus doors and asked for four dollars, ( he held up four fingers) I reached for my purse, and remembered I didn't have any cash. I told him I didn't have it and asked him what he wanted with it. He said he wanted to get a little bottle of stuff at Shelly's that he had seen when Nick got his haircut yesterday. I told him he could stop and get it and to tell Shelly I would pay for it when I came by after work to pay her for Nick's hair cut. He said okay and gave me the I love you sign. Then he turned around and looked right into my eyes and said, " I love you, Mom, I love you very much".(this was the first and only time that day that I saw Blake alive) He ran across the school yard and ran into his brother Nick. He asked Nick where he was going, because Nick always rode home with him, Nick told him he was riding with me(Mom). Blake said okay and they both told each other, "See ya at home". Nick and Kris are both on the bus with me. I had driven about 15 minutes, when I felt a pain in my heart, I called out Blake's name and let off the gas, Nick said Mom go on. I pushed the gas peddle slowly and reached for the cell phone, I could not get any signal. I shook my head and told myself that I was being silly. At 3:50 p.m. I still had a feeling that Blake needed me. I once again got the cell phone, this time I had all four bars. I called home, my step-daughter answered. I asked her if Blake was home, she said no, oh how I panicked. She asked me if he was to come straight home, I said yes, then I said no, no he was stopping at Shelly's. I heard my husband in the background asking what was going on. Tab told him I was worried about Blake, that I had a feeling that Blake needed me. I heard the kitchen chair scoot across the floor as Denny got up. Tab said that Denny was going to check on him. I told her to call if he found him. What happened after that was my worst nightmare ever. As I drove off the hill on hwy. 114 into Scotts Hill, TN, I could see traffic backed up. I instantly went to saying, " Oh no, oh no". Nick said, " Oh Momma, Blake is okay". I turned left and then pulled around traffic and into and vacant building's parking lot. I saw one of Blake's classmates, Scottie McClure, driving towards me. I looked at him and said, " It's Blake isn't it", he said, "yes maim", I said, " He's dead isn't he", he said with his eyes lowered, "yes". I let out a scream that hasn't ended yet. I took off forward toward the end of the parking lot still screaming. I stopped, Nick, Kris and I got out. I ran toward a group of people. I saw one of the teachers from the elementary school, I grabbed him and asked him was Blake really dead, he said he didn't know. I looked up and I saw my fourteen year old son, Nick, running down the middle of the road, screaming Blake's name. I tell the teacher to get Nick, then I fight to get away from the group of people holding me back. I was left with bruises on both arms and a cut on my left, I was determined to get to my son. I don't know where Kris was during this time, but later he told me he ran all the way to the bridges because he thought that was where Blake had his wreck. I was standing in the middle of the rode by now and some of the people had let loose of me because I had promised not to run. Just as they cleared away from me, I looked up as they rolled the stretcher with Blake, in that black body bag, on it, down the road and into the ambulance. As they drove by me my eyes meet with the driver, his look was one of sorrow.
As they carried me to the hospital, my mind racing, my heart throbbing, still thinking it was a mistake. I could feel nothing. We got to the hospital, I needed to see him. I tried with every ounce of energy I still had to wake him up, I pleaded and prayed to God like I never had in my entire life to please give him another chance. He's going to miss out on so many wonderful things. More than anything I wanted him to have a son just like himself, so he would understand how much I loved him and adored him. Even though he was 16, a young man, he was still my baby, my firstborn, the first person to teach me about true love, he was a part of me that I wasn't ready to let go of. I wanted one more day, one more hour, one more minute to tell him what he meant to me, how he changed my life, how he was a wonderful person, but I never got the chance. I will never stop loving him, nor will I ever let him be forgotten, how could I, Blake is the one who made me who I am today. He will remain alive in my heart and will always be with all of us in spirit.


Gone from the earth
But alive in spirit
Forever in our hearts

A ROSE FOR YOU



BURNING A CANDLE
FOR YOU ALWAYS



The candle flame burns strong and true
Reminding us of the warmth of you
Comfort is provided by the light
That helps our sad thoughts to take flight.

We recall your kindness and the joy you brought With love and laughter, many a caring thought
These happy memories will see us through
Our grieving for the loss of you.

We remember your humor, your ready smile
Your patient nature, so slow to rile
The tenderness of your embrace
That no one else could ever replace.

A corner of sadness resides in our hearts
That needs we must now be apart
But your life gave much that is to cherish
Memories may fade but they will not perish.


NATHANIEL BLAKE MOORE


10-2-87 - 09-01-04


Blake just wanted to live for God and help others come to know God.



GONE FROM US&nbsp TWELVE LONG YEARS


Over the past twelve years
we have tried to reason
Why a son so precious
should ever have to leave us
Looking back,
remembering those special times together
All we have to look forward to are memories,
a sign, maybe a feather
You will always be in our hearts,
we've come to this conclusion
What you gave to us was easy,
in a world full of confusion
Nothing can break
the bond of love we share
Your innocence and humor are eternal
We carry on with broken hearts,
with smiles only external
It was so easy for you
to give us love and joy
You never had to try
We know that you still see us
and the tears of love we cry
but your LOVE will always be our guide.


Their was a child born one day,
A special child, some might say,
He laughed, he smiled, he never cried,
But I couldn't keep him forever, though I tried,

I wanted to wrap him, in my arms so tight,
I'd never let go without a fight,
But his time had come, and he had too go,
Far too soon, and my tears, they flow,

He left me, with memories of love,
As he got his wings, and flew above,
He was here for a reason, still unknown,
But his love and memories, continues too grow,

A guardian angel, for me too keep,
watching mommy, as she sleeps,
Always in my heart, and always by my side.

Can you, could you,
know my pain?
Have you felt
the endless rain...

That broke your heart
in a million pieces;
hoped and prayed
it's beating ceases?

Do you, did you
see my son?
He could not live,
no "perhaps" or "maybe"...

See his breath
grow slow, then cease.
Now he has
eternal peace.

Will you, have you
seen them take him?
I try one last time
to wake him...

Kiss him, hug him,
trace his ears.
His life was 16 years
instead of 60 .

I pray you can't,
you couldn't, you didn't.
May you never
have to live it...

Take your children,
hold them near.
Never forget
what you read here.

Yesterday.....a memory
Tomorrow......a maybe

NATHANIEL BLAKE MOORE
10-02-87 - 9-01-04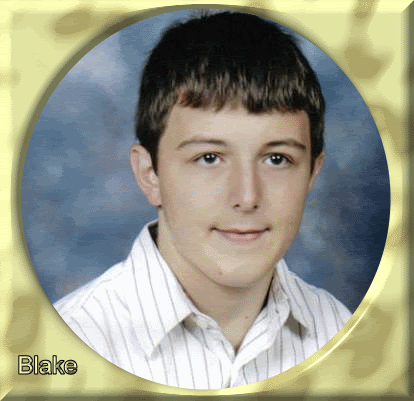 In the rising of the sun
and in it's going down,
I remember Blake
In the blowing of the wind
and in the chill of the water,
I remember Blake
In the opening of the buds
and in the rebirth of spring,
I remember Blake
In the blueness of the sky
and in the warmth of summer,
I remember Blake
In the rustling of leaves
and in the beauty of autumn,
I remember Blake
In the beginning of the year
and when it ends,
I remember Blake
When I am are weary
and in need of strength,
I remember Blake
When I am lost
and sick at heart,
I remember Blake
When I have joys
and I yearn to share,
I remember Blake
And especially as I gather
myself together,
I remember Blake
As long as I live,
he too shall live.
I remember Blake.


THE BLAKE MOORE MEMORIAL SCHOLARSHIP

FUND IS AT THE BANK OF COLLINWOOD YOU

MAY MAIL YOUR DONATION TO THE

FOLLOWING ADDRESS: THE BANK OF

COLLINWOOD
P.O. BOX 8
COLLINWOOD, TN 38450
THANK YOU SO MUCH FOR VISITING BLAKE'S SITE
IT IS A COMFORT TO SEE YOU CARE AND REMEMBER.
Please, as a way of letting me know who visited, light a candle before you leave.


Click here to see Nathaniel Moore's

Family Tree
| | |
| --- | --- |
| Tributes and Condolences | |

I understand your loss


You have left some beautiful tributes on my son's site. I am so sorry for your loss as well. It never gets easier. My heart aches constantly for my son too. My prayers are with you.


In memory of Blake


IN MEMORY OF BLAKE We had so many dreams for you But now those dreams are gone; We laid them to rest alongside you When the Father took you home. Now other dreams are in our hearts Remembering your face; The times we shared; the memories ... Continue >>

Comments


I just want to say thank you to you. I do not check my son's memorial page too often and today was such a hard day for me and your words that you had left on his page have brought me the greatest comfort today.


Another Wednesday....


"It's eleven o'clock. If only I can make it until twelve o'clock. Please God just help me make it to twelve. I feel so numb. Yet I have this searing pain in my head. I know I am awake. There is this piercing hurt in my heart. I thought surely wh... Continue >>

Prayers for you


To Mellisa and your family we offer all of you our most sincere thoughts and prayers for the loss of your precious son Blake. We pray that the Lord will ease your pain with the passage of time and make each day a little easier. Mei God bless and hold... Continue >>
Thinking of you Angel Nathaniel Blake and your family! Read >>
HOLY ALPHABET Read >>
STAIRWAY TO HEAVEN Read >>
ANGEL IN FLIGHT Read >>
YOU ARE MISSED Read >>
SO LONELY Read >>
A Prayer Read >>
HAPPY 23rd BIRTHDAY, SON Read >>
You Will Have To Look Behind Closed Doors, To See Read >>
Missing our son's Read >>
| | |
| --- | --- |
| His legacy | |

The following are words spoken at the Memorial Service held for Blake on 9-3-04 at Scotts Hill High School.




As the teacher who can tear up teaching Beowulf, I don't know how I'll make it through this sad occasion without crying. I want to ask you to pray for me that I'll have the strength to say what I want to share with you about Blake Moore. When Mr. Norton was planning this service, I knew what Blake would say to me if he could be here today. He'd say, " Now, Mrs. Hart, you need to say something-- you're the drama teacher &
you need to be a good example." And so, Blake, wherever you are - I'm doing this for you.
Teachers endeavor to teach students a number of things, but teachers also learn a great deal from students. I learned three important lessons from Blake Moore, and if you knew him, you learned them, too. First of all, I learned that a bright-eyed smile can help make anybody's day better. He had one- didn't he? Can't you just see it? Whether you meet him in the hall, or at break, or coming into class, that smile exemplified his enthusiasm for life and brightened up his corner of the world.
Secondly, I learned that kindness is never out of style. Blake Moore was a kind person- even when people were not always kind to him. His friend Kelly told me a story last night at the funeral home. He said that Blake's step brother, Darryl, had been in the hospital and had come home Tuesday. Darryl usually slept in the room with his brother Kris, but Blake decided that Darryl would rest better in a bed by himself so he decided to give up his bed. When Darryl came home, Blake had prepared it with pillows all around so Darryl would be comfortable. Many of you could share a story of Blake Moore's kindness.
Thirdly, Blake taught me that everybody- everybody- matters. If I asked you to stand if you considered yourself Blake Moore's friend, probably at least eighty-five percent of you would stand because Blake wanted to be friends with everybody. He could fit in with the soccer team people or the volleyball team, or the drama club. He was good to the rich and the poor, to the smart and the strugging, to the popular and, or the rejected, a lesson that we could all learn from.
In most teacher's classes, a test is given at least once a week, but for the lessons Blake taught, the test is everyday- every period. Did we learn well? If we can remember that a bright-eyed smile can cheer up a room, that kindness is never out of style, and that everybody matters, then that young man that we say goodbye to today can live forever in our actions and in our memories. I do believe that his spirit lives on and that you can take comfort in the fact that although he is not physically here, he does exist.
In the spring I always give my drama students a choice of three poems to memorize and many of them memorize the poem that I am going to close with. I believe they choose it because it is comforting to think that our loved ones don't leave they just change. I like to think that Blake would have chosen this poem, and so I want you to listen as though Blake were saying these words to comfort us.
By: Mrs. Kay Hart,Drama Teacher

DO NOT STAND AT MY GRAVE AND WEEP
Do not stand at my grave and weep,
I am not there, I do not sleep.

I am a thousand winds that blow;
I am the diamond glints on snow.

I am the sunlight on ripened grain;
I am the gentle autumn's rain.

When you awaken in the morning's hush,
I am the swift uplifting rush

Of quiet birds in circled flight.
I am the soft star that shines at night.

Do not stand at my grave and cry,
I am not there; I did not die.



Memorial Service cont.




I didn't know Blake for very long. I met him in the spring on the soccer field, on the enemy team. He was always trying to get me to transfer to Scotts Hill just for the soccer team. Always with a big smile on his face, he would come up to me with the latest scheme to get me to come. I finally came this year and I really enjoyed knowing him. He seemed like a great person, an optimist who always had a joke or a smile handy. I had one class with him, French. One day we were looking at common French names and we decided to call him "THEO", which means "divine Gift". He was always wanting for a general happier mood. I came and I was glad I knew some people, Blake was one. I was thinking that I had come to a place where people actually seemed to want me, and where Blake would stop nagging me to come. But my acquaintance with him was short lived since not a month after attending this school he died. I didn't know him for as long as most, but I got to see Blake for who he was. He was a person with a good heart and a matching soul, a true friend, and a person who will be sorely missed.--Stephen Steigal

Memorial Service Cont.


HONER THE MEMORY, BY: JOEY EVANS
We all will have to fight back the tears, and will be left to stop and weep. Everyone will carry a heavy heart, and we may cry ourselves to sleep. Teardrops are left upon our cheeks, that will not be washed away by the rain. We will try to grow & go on with our lives, maybe never able to outrun the pain. Shock and hurt is what was felt by us all, when we heard about one of our own. We were somehow at a miracle ease, as we knew the angels had taken him home. We must all come together as one, when he is laid to enternal rest. We must be strong for the person that we love. Out of respect for him, we must do our best. The prayers and love will always be strong. We must be as strong as we can be, so we may get through this tragedy together, by choosing to HONOR THE MEMORY. A STUDENTS PRAYER, BY:TINA MOORE-- Dear Lord, I pray keep me safe this day and guide my heart to the memory of he who did depart. Beloved Father, I pray to keep his family this day in your divine embrace, For today they need your grace. Oh Holy One, I pray that I could this day teach the lessons Blake did revere. So that Your love could touch at least one more peer. 'Til we meet again Blake(A.K.A. THEO)


Memorial Service Cont.




With life comes death and with death comes life
And time goes on, never mind our strife
There should be exceptions when it seems there's a mistake
This poem is about such a person-Our everlasting friend, Blake.

"If tears could build a staircase and memories a lane,
I'd climb right up to heaven, and bring you home again."

Oh "Theo" don't you know,
We'd do it again and again
If it brought you back from Heaven,
And we could begin, forgetting "the end."

As if nothing happened
As though you were never gone,
We'd pick up where we left off,
And together, we'd journey on.

But your fate was not this,
And we can do nothing to change,
Can't go back in time,
Can not relinquish all this pain.

We'll try to go on
Though it'll never be the same
We'll always miss you
And forever cherish your name.

You're in Heaven now
And forever you will be
But what will never leave us,
Shall be your memory.

We'll cherish the time we spent together
Whether it was long or short
You're gone forever, never to return
Your ship has left his port.

Give us strength to carry on
Help us remember you
Though we're worlds apart
And your mortal life is though

I pray for you in heaven
That you had not a single regret
And we that you left, we that remain
Promise never to forget.

WE BROKE A RULE,
WE PRAYED IN SCHOOL,
AND WE DID IT ALL FOR YOU!.

WE LOVE AND MISS YOU, BLAKE

~*IN LOVING MEMORY OF NATHANIEL BLAKE MOORE*~
A.K.A. "THEO" : "AIN'T IT MASCULINE?!"- BLAKE MOORE

FAREWELL, MY FRIEND
STEPHEN A. SIEGL
SEPTEMBER 2,2004

Memorial Service Cont.




"A DEDICATION TO BLAKE MOORE"

September 1st was a tragic day,
Many of us lost a dear friend.
He was a great son, brother, and friend all in one,
And greatly loved until his untimely end.

He shall never be forgotten,
He shall live on in our hearts.
Although he was taken from us,
Though love we shall never be apart.

We all feel much anguish,
Over the events of that gloomy day.
Through pain and love we are brought together,
For he influenced us all in his own way.

We are not meant to question God's motives,
But when I think of that day I cry,
"Why couldn't he walk away like so many others,
Why did he have to die?"

We all wish we could change the past,
We all wish this wasn't meant to be.
He's gone to a better place though,
And I know someday again he'll shake hands with me.

I cry because Blake is gone,
But I cry also for the rest of you.
Blake knew that Heaven would be his home,
I pray the rest of you do too.

Everyone please help his family,
Please lift them up in your prayers.
Do all that you can for them,
But most of all let them know you care.
R.I.P. Blake
BY: CODY WOOD
Nathaniel's Photo Album
Mom, at hospital 10-1-87, to have me, but I wasn't ready yet, not for 21 hours!!
/%=page.GetMemoryBookLinkForPageBottom()%>